A History of Experience and Client Satisfaction
Valco Precision Works has been a family owned and operated business since it was started in 1984, by Leonel Valerio Sr.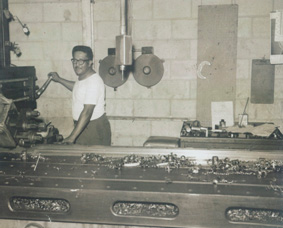 It all began when Leo Sr. joined Downey Planer Works in 1959, at the age of 36.  Leo Sr. worked his way up through the ranks, eventually running the entire business.  Fast forward to 1984, Leo Sr. ended up purchasing the business and changed the company name and Valco Planer Works, Inc.
In 1986, Leo Sr. brought his oldest son, Leo Jr. to join the Valco team, already equipped with 10 years of machine tool experience.  Leo Jr. continues to run the business today.  Over the years, Valco saw rapid growth and in 1991, it purchased Park Metal Products.  The business brought planer mill capability and more square footage, which meant Valco could further diversify.  The property next door was purchased and a spray booth was built, allowing Valco to offer industrial coatings.
Then, in 1997, Leo Sr.'s youngest son Oscar was brought into the Valco family. Oscar joined with a focus on the addition of certified welding and fabrication services.  With demand increasing over the years, Valco has ramped up to 9 CNC machines of different sizes, features and capabilities.
Through the years, Leo Sr.'s other 3 children Carlos, Raul and Georgina have joined the team, keeping Valco Precision Works a true family business.  The Valerio family, with the help of its dedicated staff, is committed to quality and on-time delivery.  Please consider Valco for your next project – you can reach out to us directly or via email.  Satisfaction of clients is our top priority and we welcome the opportunity to work with you.